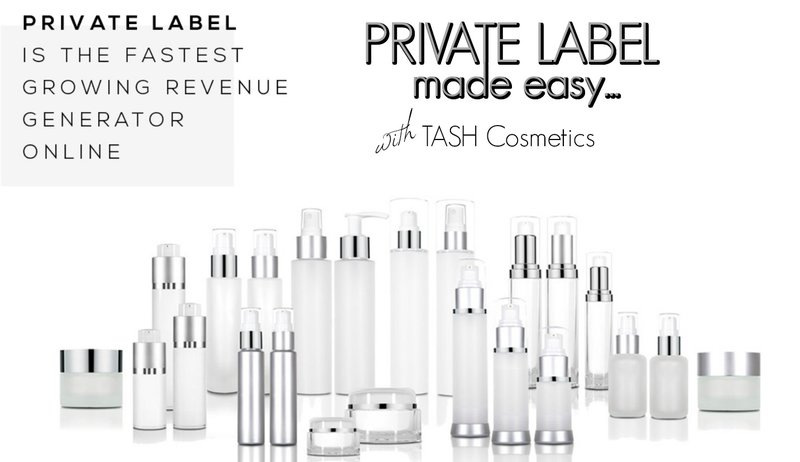 PRIVATE LABEL YOUR OWN Cosmetics and SKIN CARE LINE with TASH
TASH Cosmetics, LLC offers quality private label Skin Care and Cosmetic products for small and large companies. Minimums are small because we know the challenges you face as a smaller business.
TASH offers several options for private labeling products:
You can either order our retail size bottles and add your labels to our stock formulations.

You can order in bulk size and use your own bottles and labels and completely customize the product to your own specific needs.

We have great formulations that have stood the test of time and have a devoted following. These formulations are available to you in our stock packaging. Now, our great products can become your great products!

Chances are that you have started your investigation on what it takes to develop your own line of natural and organic private label skin care products. And chances are you understand this can be a complex process.
At TASH Cosmetics, our focus is to simplify this process for you by pulling together all the components required that meet your needs and budgets. An overview of how we work is provided here in five steps.
Benefits of TASH Cosmetics Private Label Skin Care & Cosmetics

Higher profits – our high-quality natural and organic based skin care products are offered at costs comparable to or lower than leading brands, but you set the price… no more MSRP!
Brand equity – sales of your own private label skin care not only builds your prestige in the mind of your customers, but also in the market – building sales of your own products can increase the overall value of your business
Increased sales – engaging your staff in the development of your private label products will lead to increased product sales
Client retention – what is better than having your clients carry your brand to their homes?
It's simple – consider us your in-house product development team – without the overhead!
Developing your own brand is the single most important business decision you can make. TASH Cosmetics has the right formulas and flexibility to make your brand an overwhelming success. Just choose your path and start building your brand today.

Ready to Label
A complete line consisting of over 100 of the highest quality formulas, packaged and almost ready to sell. All you need to do to be in business is apply your logo label and a distributed by label on our stock products.
Advantages
Product orders processing takes 24-48 hours and ship out 3-7 business days after the initial order is placed depending on the size of order. Subsequent order ship in 3-5 business days. We try and get orders out as soon as possible because we know how important time is for you and your customer. Remember, we are a unique company and everything we do is hand, made to order in small batches to insure freshness for you and your customer. Many companies don't do this and have a ton of product on hand waiting to go out with a ton of potentially toxic parabens in them to extend their shelf life. Our method not only extend's the shelf life naturally but also guarantees freshness and the quality of your product. We use plant based-botanical ingredients. We recommend placing an order prior to low or out of stock inventory so there are no delays in getting your items out to your customers.
Orders can be placed online 24/7
Minimum Order Quantities or MQO, vary per product but typically range from $50.00 per order and up-which is already configured for you in the listing. However, it does vary per item. The price is already configured in our listing for you. Our prices are very fair and very reasonable considering the fact that we are an Organic, Vegan Certified, E.U registered company. Our pricing covers the cost of the botanical ingredients that we use, the environmentally friendly bottles, jars and tubes we use, the cost of our screen printing and the cost of shipping products to you at no extra cost. (Because it's already included in our pricing) Most companies charge a MQO plus additional shipping charges. We do not. See each individual item description for further information.
Why is this good for you? It's good for you because you are buying in bulk at wholesale cost with suggested retail price include for mark-up. This way if your customers orders one, and then her sister wants one the next week you will have that second bottle on hand and ready to go!
Time Frame: Depending on the size of your Oder and that fact that all of our products are handmade and made to order to insure freshness, you order may take 7-10 days to receive, larger quantities take a "tad" bit longer.
In Comparison: Some companies charge an upwards of $1000.00-$1500.00 min opening order- or require 1000 PC MQO- WE DO NOT! Because we don't have to. We keep our overhead low, and we have used the same ingredient vendor for many, many years now and have such a good, trusted relationship with them that we don't have to pay ridiculous prices or charge them. We want to make sure you succeed and part of our job is to get you the BEST quality for the BEST price.
Limitations
Requires a small investment in labels- Our bottles are profession stock bottle that look very nice, however you will need to make your own label. What comes on our bottle? The product name or in some cases the product number, ingredients on the back along with directions for use.
Making your own own labels insures a few different things. #1 you can design it however you want, you can adjust style and placement of your label. #2 it puts you in the drivers seat in charge of your own product so to speak, all while keeping costs down.
We work with a label company for our private label customers. They charge no MQO and have really great prices and give you access to the label builder templates to create your own profession labels with in minutes. It's super easy to use. Click the link below for more information.
The screen print on the bottle cannot be changed, so in most cases the product name is pre-determined. However, that still leaves room for your creative juices to flow! Or you can re-bottle, name and label them yourself. Please note, we DO NOT Create the labels for you. This is one way we pass on the savings and low MQO's to you. However, with that said, if you are a start up company we may assist you in creating your logo for your label but this does come at an additional cost. Please email us for information.
Things You Should Know
This is the fastest and easiest way to start your All Natural, Organic, Vegan, Private Label Line with out investing thousands of dollars on screen print labels. This allows smaller business to get their foot in the door.
This Option can be combined with any products on our private label list to extend your line to as many products as you would like



Are your products: 1). natural 2). contain animal products 3). organic certified 4). vegan 5). chemical free 6). preservative free?

Each of these is worthy of a long discussion, but here are the short answers:

*Yes! We use natural ingredients approved by the U.S. Food and Drug Administration (FDA).

*Natural skin care is the care of the skin (the largest organ of the body) using naturally-derived ingredients (such as botanical's extracts, roots, essential oils and flowers) combined with naturally occurring carrier agents, surfactants, humectants and emulsifiers. The classic definition of natural skin care is based on using botanically sourced ingredients currently existing in or formed by nature, without the use of synthetic chemicals, and manufactured in such a way to preserve the integrity of the ingredients. We strive to be and use all natural, plant based ingredients.

*We do not use animal derived ingredients, no do we test any of our products on animals ever!

*We strive to make the most effective products with regard to the concept of organic, or else we would have to forego the use of such technologically advanced ingredients as Peptides, CoQ10 and Vitamins.

*All formulas are Gluten Free.

*Some of our formulas are Vegan-We state this on the product page.

*We only use natural plant based preservatives in our products. There are no chemical preservative in our products. There is a big misconception between plant based preservatives and chemical based preservatives. People hear the work preservative's and freak out when not all of them are bad. It is imperative that products are free of contamination and remain so after the consumer opens and uses the product. Therefore, we will make sure that each formula meets the necessary level of protection with a plant based ingredients that acts as a preservative or extends the life of the product for your protection.