AA-AHA Mint Mask (4.0 oz)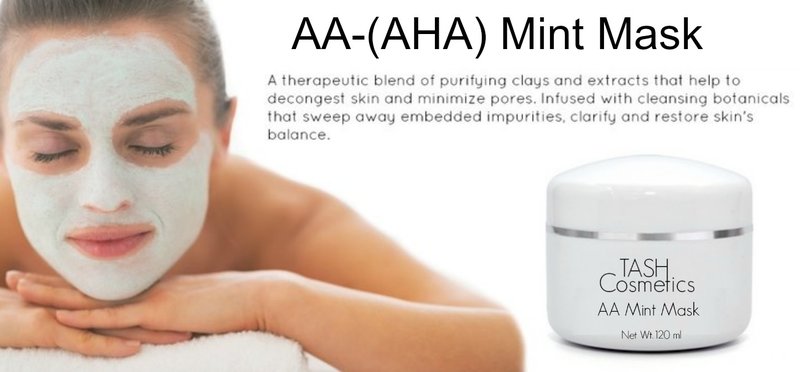 Our AA-(AHA) Mint Mask is a therapeutic blend of purifying clay's and extracts that help to decongest skin and minimize pores. Infused with cleansing botanicals that sweep away embedded impurities, clarify and restore skin's balance. Great for removing excess oil, deep cleaning your pores without leaving your skin feeling over dry.

Benefits:
rejuvenates, rebuilds, hydrates and nourishes the skin

natural clay that aids in absorbing oil secreted by the skin

helps to draw out impurities and toxins from the skin

helps to reduce the size of pores and prevent skin imbalances

helps prevent damage from the sun

astringent, antiseptic, healing and antibacterial properties

excellent skin imbalance protector, controls and reduces inflammation and the production of oil

refreshing, cooling, antiseptic and vasoconstrictor properties

natural extract that contains high levels of Vitamin A, C and E.

paraben free, vegan, organic formula

Directions: Apply to face, leave on for 20 minutes, wash off, use 1-2 per week or as needed.
Key Ingredients: Purified Water, Aloe Barbadensis Leaf Juice, Kaolin, Bentonite, Hydrastis Canadensis (Goldenseal) Extract, Hamamelis Virginiana (Witch Hazel) Extract, Mentha Piperita (Peppermint) Extract, Glycerin, Melaleuca Alternifolia (Tea Tree) Oil, Dicalcium Phosphate, Kaolin, Cellulose Gum, Titanium Dioxide, Flavor, Grapefruit Seed Extract, Stevia Extract, Acacia Gum, Ascorbyl Palmitate, Neem Oil, Sodium Bicarbonate, Potassium Sorbate, Echinacea Angustofolia Extract, Echinacea Purpurea Extract, Folic Acid, Green Tea Extract, Gotu Kola Extract, Eucalyptus Oil, Thyme Oil, Coenzyme Q 10