Australian Pastel Pink Clay Hydration Mask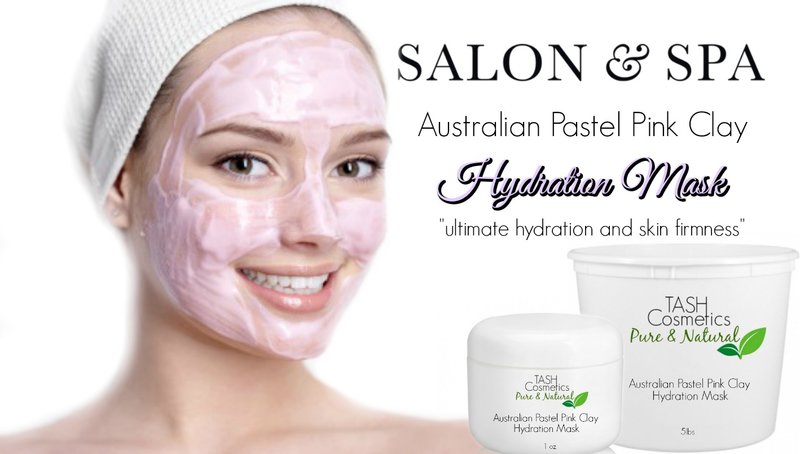 Our Australian Pastel Pink Clay Hydration Mask is prepackaged in various sizes to fit your salon/spa needs= net wt 1 oz in a white jar.
Give your client a "Youthful appearance" with ultimate hydration and skin firmness, Australian Pink Clay is perfect for balancing the most stressed and sensitive of skins, it's hydrating properties help to refine delicate lines, moisturize, and improve the overall texture of the skin.
Australian active clay's are the result of age-old volcanic activity, rich in valuable minerals

One of the best skin clay's on the market today

Used in a mask they draw out toxins like a magnet - chemicals that have been absorbed into the top layers of your skin through exposure to everyday pollution

Face or body masks stimulate circulation, remove dead skin cells, absorb excess oil and other impurities, and generally improve skin color and tone, depending on the type of clay used

When a mask is applied, warmth is created beneath the mask: the skin begins to sweat and as a result toxins, waste products and dirt are discharged, cleansing the pores

Makes great back bar or sell retail for your customers to achieve the same quality results in the comfort of their own home!

A day at the spa is the ultimate luxury, but for those of us who can't make it out to one on a weekly basis, this premium Australian Pink Clay Hydration Mask makes it easy to recreate the effect at home! This delicate formula is safe for all skin types, so your clients will enjoy relaxing spa experience.
Your approx.profit Margin: ( Based on resale value of 30.00-35.00-median retail value)


5 Pack: $175.00-$200.00
10 Pack: $350.00-$550.00
20 Pack: $700.00-$100.00

Your profit based on facial cost-per facial:

1/2 Gal: (approx 300 facials @ $40.00 each-median price) 12,000.00
1 Gal: (approx 600 facials @ $40.00 each-median price) 24,000.00
Hints for an even more luxurious mask
* Instead of using water with your clay mix, try replacing it with a hydrosol such as Rosewater, which is a product of the steam distillation of essential oils. Hydrosols contain elements of the essential oil, including the scent and some of the therapeutic benefits, but are diluted enough to use straight on the skin. Rosewater is also a natural 'humectant' in that it draws moisture from the atmosphere towards the skin, helping to keep it moisturised.
* Try placing a slice of cucumber over each eye while your client relaxes as the clay dries. Cucumber is well known for its skincare benefits, particularly around the eye area.
* Add different natural ingredients to your mask:
Sweet Almond Oil - regulates skin moisture. For very dry skin
Aloe Vera - healing and rejuvenating. Suitable for sensitive skin
Honey - add a tablespoon. Nutritive and smoothing
Jojoba Oil - healing, regulates skin moisture
Wheatgerm Oil - for mature or dry skin
Witch Hazel - astringent, soothes irritated skin (not for dry or sensitive skin)
Yoghurt - add a teaspoon. For acne, sensitive, oily skin
* Should your mask mixture become too runny, just add more clay until it reaches the right consistency.
Suggested Usage: twice a week for normal / combination / oily skin and once a week for sensitive / dry / mature skin Enjoy soothing, smoothing effects after just one use A luxurious spa treatment you can enjoy in the comfort of your own home Achieve a young appearance and ultimate hydration with regular use.
Directions: Mix 1 tsp of clay with 1 to 1.5 tsp of floral water or plain water in a plastic or glass bowl. Stir to form a paste, and apply evenly to face and neck, avoiding eye area. Sit back and relax for 10-15 minutes until it dries. You'll feel your face draw tight as it dries. Rinse well with warm water and a soft cloth.
Warnings/Cautions: For external use only. Avoid contact with eyes. If skin irritation occurs, rinse immediately and discontinue use. Keep out of reach of children. Use only as directed. No medical claims given or implied.

Please note: Exercise caution using this clay on your clients, as it may stain fabric.