Lipo Slimming Gel (12 oz Professional Strength & Size)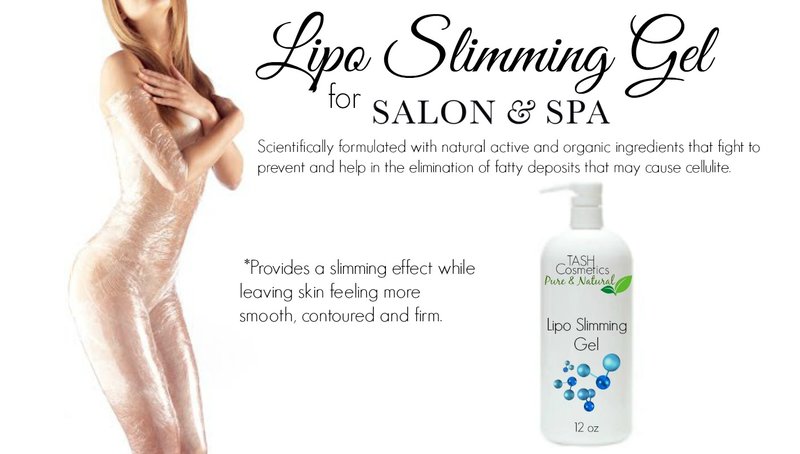 Our Lipo Slimming Gel is scientifically formulated with natural active and organic ingredients that fight to prevent and help in the elimination of fatty deposits that may cause cellulite. Helps provide a slimming effect while leaving skin feeling more smooth, contoured and firm.
A powerful blend of active, botanical ingredients to help lipolysis and micro-circulation.
Fisetin is a natural antioxidant and anti-inflammatory, key enzyme for the influx of glucose into the cells, diminishing lipogenesis after eating.

Frambinone phenolic is a compound from natural origin - raspberry, that helps increase basal lipolysis and skin elasticity.

Natural Caffeine helps blood flow by dilating blood vessel and helps stimulate waste elimination.

Centella Asiatica extract to promote blood and lymph circulation to better oxygenate skin cells.

Butcher's Broom Herb that is used for disorders of the system for improving circulation.

TEA-Hydroidide Iodine Compound has effective lipolytic properties.

Carnitine is known for actively helping free the stored fat from cells, boosting the metabolism of the cell by converting it to fuel for the cells.

Chestnut H Extract helps protect and strengthen the veins and capillaries, promotes better and healthier collagen and fights inflammation.

Green Tea Extract reduces free radical damage.

Seaweed feeds the skin with essential minerals and nutrients.

Aloe Vera Barbadensis Leaf Extract is a natural humectant and skin conditioner.

Discounts available for larger quantities. (please email us for a quote)
To Use: For maximum results, massage onto problem or cellulite-prone areas once or twice daily; morning or night. Ingredient effectiveness is enhanced by a warming and flushing experiences as circulation increases in the stimulated area. Wash hands immediately after application.

Key Ingredients: Fisetin, Frambinone phenolic compound,Natural Caffeine, Centella Asiatica extract, Butcher's Broom herb, TEA-Hydroidide iodine compund, Carnitine, Chestnut, Green Tea Extract, Seaweed, Aloe Vera Barbadensis Leaf Extract.