The Brooke Lewis Ms. Vampy Girl-Basic Skin Care Set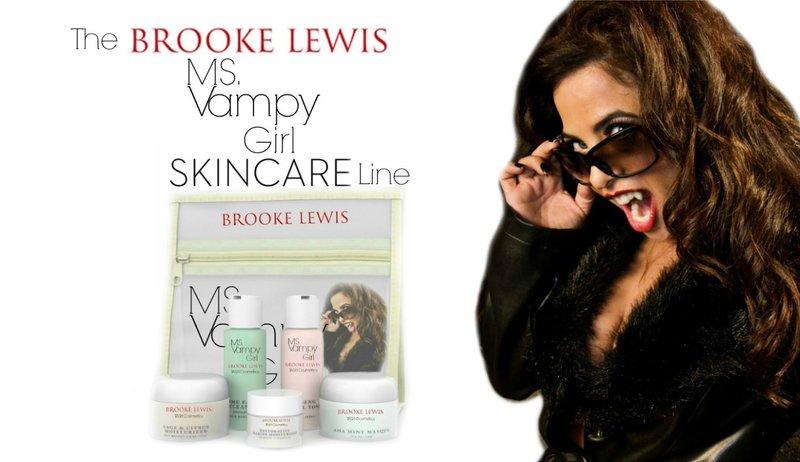 The Brooke Lewis Basic Skin Care Essentials Set will give you magnificent results in a short period of time leaving your skin clean and beautiful just like hers!
Beginning with the most basic step of all, "clean healthy skin" infused with naturally derived botanical's that melt away dirt, oil, makeup and other skin impurities. Cleanse, tone and hydrate all in one simple kit for skin that looks and feels perfectly balanced.
Deep clean pores to help eliminate acne causing bacteria's while natural oil extracts help condition and nourish. When you choose our Basic Skin Care Essentials Kit, you will receive a complete set of essential skin care products containing dermatologist approved active ingredients that are proven to work leaving your skin looking and feeling its best. Suitable for all skin types and gentle enough for the most sensitive skin.
"There's no better time to take care of your skin, than now. After all your skin is going to represent you for a very long time"...
Included in this kit:

Limu Facial Cleanser 2 oz-Two natural ingredients of marine algae and Aloe Vera gel create a gentle but effective cleanser with no oils or harsh ingredients. Studies have shown a sufficient increase in skin flexibility and hydration with this combination. Sucrose Cocoate is a natural sugar ester that cleanses the skin gently, removing surface debris and make-up.

Ginseng Mineral Toner 2 oz-Our Bio Extract Ginseng Mineral Toner is a multi-functional hydrating toner that enhances the skin's natural repair process. With extreme hydration qualities to replenish and recover your skins natural beauty. This multi-functional hydrating toner offers natural proteins that help in retaining the elasticity of the skin. Such proteins have bio-extracts that are effective in hydrating and minerals that boast stimulating and toning capabilities that aid in the skin's natural repair process. Ginseng Extract is also incorporated in this effective formula in order to revive and condition the skin. This light pink liquid contains the pleasant scent of Ginseng, Geranium and Chamomile to refresh your skin and re-hydrate your skin post-cleansing.
Fruit Extract Buffing Creme .5 oz-Fruit Extract Buffing Cream for all skin types - light gentle creme with light brown speckles.This moisturizing creme base incorporates gentle exfoliating granules of Jojoba Beads and Almond Meal to remove dead skin and reveal new skin cells. Regular use gives your skin a healthy glow and improves skin texture.

Sage & Citrus Moisturizer .5 oz-Enriched with specially chosen ingredients, this lightweight Sage and Citrus Moisturizer helps to condition and tone the skin. This cream has a white fluffy appearance owing to a blend of active botanical sage, watercress and lemon bio-flavonoids. This effective formula contains the benefits of well-known antioxidants such as vitamins A, C, and E that protect and improve the elasticity of the skin. It is a balanced moisturizer that is able to purify and revitalize the skin without making it feel sticky or heavy.

Restorative Marine Moisturizer .25 oz-Clinically tested to improve skin's hydration levels.This formula uses an extract produced by bio-fermentation of a selected strain of red marine algae abundant along the shores of the Hawaiian Islands. Clinical studies have shown a substantial increase in collagen stimulation and a 20% increase in overall skin appearance within four weeks. Skin moisture and hydration increase 70% with four weeks. Vitamins A, C, & E are added to act as anti-oxidants to fight free radicals that cause damage to the skin. Essential Oil scented.